MISSION
The mission of the University of Illinois at Chicago's Urban Health Program (UHP),  is to recruit, retain and graduate African American/Black, Latinx, and American Indian pre-college, undergraduate pre-health, graduate and professional students with interest in the health sciences.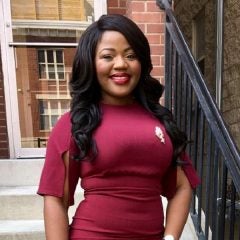 "Being in pharmacy school I spend most of my time between school and the library, and so it becomes important to have a family and support system away from home and this is what UHP has been to me. Through UHP, I have gotten the support academically and emotionally to be able to make it through pharmacy school. I have had the opportunity to mentor students, attend leadership conferences, provide health services to members of underserved communities and make lasting relationships with other UHP students like myself who share a common goal of improving healthcare in underserved communities."

|
Student Success and Results – Maximize underrepresented minority student success and outcomes at the College of Pharmacy
Human Resource – Optimize internal and external human capital to advance the college's UHP mission.
Collaboration– Maximize collaborative relationships with internal and external partners to advance the college's UHP mission and goals.
National Model – To be recognized by other colleges of pharmacy as the preeminent leader in URM student recruitment, enrollment, and graduation.